ABS Hydraulic Service GmbH
We provide you with manufacturer-independent, timely, high-quality repair and maintenance of hydraulic pumps, hydraulic motors and rotary motors of the most common makes and manufacturers.
Competent repair, maintenance, sale of new parts and fast, reliable spare parts supply are our core business.
Agricultural, forestry and construction machinery in particular benefit from our fast, high-quality repairs and overhauls. It goes without saying that we at ABS only repair with original spare parts.
History
1982
ABS was found as a service company vor consturction machines. After just a few years, ABS was further developed into a service specialist for brand-independent repairs of hydraulic pumps and motors.
2009
The company was sold. The new management modernizes and restructures the company. ABS is consistently and purposefully geared towards the future.
2014
ABS Hydraulik Service GmbH becomes a certified Bosch Rexroth Service and Repair Center. This is an additional, high-quality expansion of the already very extensive range of services for ABS.
2015
Moving to Hallbergmoos, in the easily accessible Munich Airport Business Park. ABS is once again making significant future-oriented investments. State-of-the-art, efficient equipment and technology ensure a significant increase in our throughput with very high quality standards.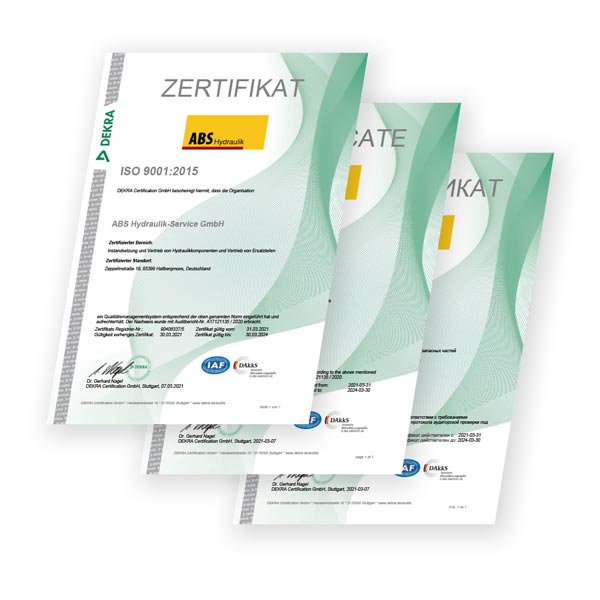 Certification
The DIN EN ISO 9001: 2015 certification is recognized both nationally and internationally. It is the most widely used standard in the field of quality management. It is a process-oriented standard that is based on the four main processes of a company.
Responsibility of managers
Handling of resources
Manufacturing and work processes
Measurement, analysis and optimization
The implementation of the standard enables us to apply and fulfill important requirements and quality standards in our company. The certification according to DIN EN ISO 9001 shows our customers and business partners that ABS works on the basis of quality-oriented and structured process flows
Certified as Bosch Rexroth Service Partner and Repair Center
Since 2014, we have been authorized by Bosch Rexroth as a repair and service company. ABS thus offers customers a high-quality extension of its extensive range of services.